At Brook Denture Clinic, we have built our reputation on providing professionally fitted dentures that make you look and feel better, with the ability to smile with confidence again.
We are dedicated to providing you with bespoke dentures of the highest quality. With over 35 years of experience, our Clinical Dental Technician will create dentures that fit you perfectly.
Brook Denture Clinic also accepts referrals from prescribing Dentists for all forms of denture work.
To book your initial consultation or an appointment for treatment, contact us today. Same-day appointments are available for emergencies.

     Full Dentures

     Partial Dentures (Simple or Complex)

     Implant Retained Dentures

     Acrylic Dentures

     Permanent Dentures

     Fixed Dentures

You'll expect nothing but a professional service crafted around what your very own needs. Drawing from over 35 years' experience, you'll get the finest results regarding fit, function, and cosmetics.

From your initial consultation to your after-care denture maintenance, we will be with you every step of the way, from start to finish.

In conjunction with our wealth of experience and highest quality craftsmanship, we also keep in touch with the latest developments in technology, ensuring that our high standards are consistently maintained.
Following an in-depth consultation, we will then discuss the best possible solution with you, ensuring you have full information, every step of the way.
Whether you require simple dentures or have a more complex restoration case, you will benefit from the highest quality of materials, specially hand-crafted by our experienced Clinical Dental Technician, producing the most life-like gums and teeth.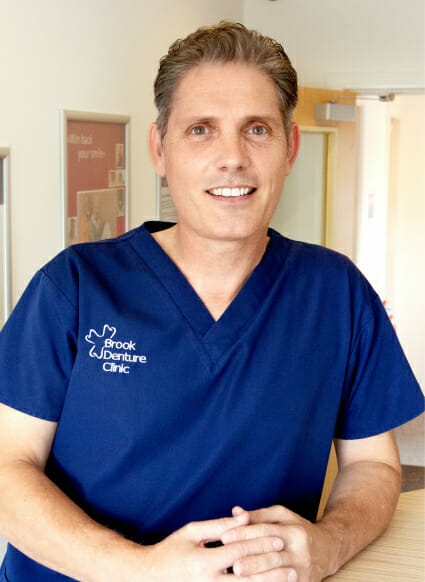 (CDT) (Hons) Dip RCS Eng RDT
GDC No. 152439
Gordon Brook is a Clinical Dental Technician, qualifying at the Royal College of Surgeons in 2009. He enjoys meeting with patients, using the highest quality and precision to construct bespoke dentures directly for the public. Providing confident smiles is his aim.
"From private patients to professional referrals, I guarantee that no one will show more care and attention than Brook Denture Clinic to restore the natural glowing smile you deserve."
During your first consultation, Mr Brook will undertake a detailed evaluation, enabling him to create a bespoke treatment plan for you.
This may include taking details about your dental and medical history, a full clinical assessment and an examination of current oral health, including natural tooth loss, plus advice on helping you to achieve optimum oral health.
Mr Brook will then run through the different types of dentures available and procedures involved, along with costs so you can make an informed decision about the treatment you receive.  Together, you can then decide on the right course of action.  Full denture care instructions are provided on completion of your treatment.
Just send us a form or Call us
All our dentures are created on-site in the laboratory suite next to the surgery.